80sfashion.clothing is a participant in a the Amazon Associates and Redbubble affiliate advertising programs. These are designed to provide a means for trusted websites (like this one)to earn fees by advertising and linking to their products.
80S Tee SHIRTS FOR LADIES
For an 80s look, wear an over-sized, baggy T-shirt or sweatshirt, preferably worn off one shoulder. Wear with leggings and/or a petticoat/tutu skirt. You can add leg warmers (scrunched up around the ankles) for an 80s workout or dance style.
Block letter slogans were particularly popular around the mid-eighties, especially "Choose Life" and "Frankie Say Relax". You can also wear a shirt featuring video games, movies and pop bands from the era. Unless an item is listed as "runs large", then we recommend ordering at least a size larger than your normal size to get that loose 80s look.
For an early 80s, Flashdance movie look, you'll need a baggy sweatshirt (preferably gray) - see further down the page. Wear with black leg warmers.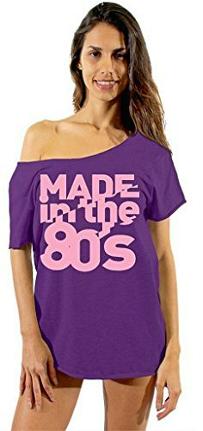 PLACES TO BUY 80S T-SHIRTS
Redbubble have many exclusive designs which have been created by independent artists. If you're looking for something quirky or unique, then this is an excellent store to buy from, and they have many thousands of tees and other products.
These tees are available at Redbubble.com who ship worldwide. We have picked out relaxed fit T-shirts which are ideal for a loose 80s look. To wear off one shoulder, we recommend ordering a size up on your usual size. All of these designs can be printed on a wide range of tops, sweatshirts and hoodies.