80sfashion.clothing is a participant in a the Amazon Associates and ebay affiliate advertising programs. These are designed to provide a means for trusted websites (like this one) to earn fees by advertising and linking to their products.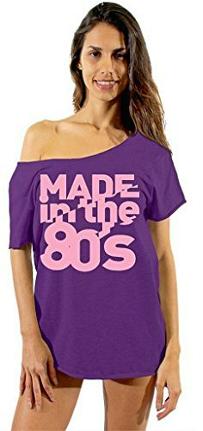 For an 80s look, wear an over-sized, baggy T-shirt or sweatshirt, preferably worn off one shoulder. Wear with leggings and/or a petticoat/tutu skirt. You can add leg warmers (scrunched up around the ankles) for an 80s workout or dance style.
Block letter slogans were particularly popular around the mid-eighties, especially "Choose Life" and "Frankie Say Relax". You can also wear a shirt featuring video games, movies and pop bands from the era. Unless an item is listed as "runs large", then we recommend ordering at least a size larger than your normal size to get that loose 80s look.
For an early 80s, Flashdance movie look, you'll need a baggy sweatshirt (preferably gray) - see further down the page. Wear with black leg warmers.
Copyright (c) 80sFashion.clothing