80sfashion.clothing is a participant in the Amazon Associates advertising program. This is designed to provide a means for trusted websites to earn fees by advertising and linking to their products.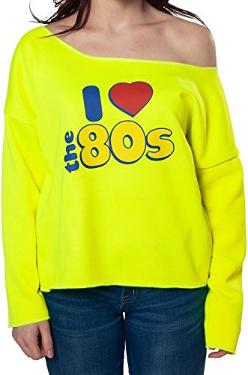 80S SWEATSHIRTS FOR MEN AND WOMEN
Oversized, slouchy sweatshirts became very popular in the 1980s, and on this page you will find a wide range of awesome designs, some of which can be worn off one shoulder - which is so very 80s! One of the most iconic images from the decade was Jennifer Beals in the 1983 movie Flashdance.
To create an eighties fitness look, wear with scrunched up leg warmers. Depending on your budget, you can also add leggings or tights, and sweatbands on the wrist and a headband. Hi-top sneakers will complete your look.
You can create a party style by ditching the sweatbands and, instead, adding 80s accessories and jewelry such as big plastic neon earrings and a stack of bracelets/bangles on your arm(s). Wear with a layered tutu or ra-ra skirt - see our 80s Skirts section for ideas.
Use the links below to jump to the relevant page sections...
Copyright (c) 80sfashion.clothing