80sfashion.clothing is a participant in the Amazon Associates affiliate advertising program. This is designed to provide a means for us to earn fees by linking to products on amazon.com.
Welcome to 80s Fashion Clothing. Our mission is to help you find 1980s costumes, tees and accessories. If you're looking for inspiration and ideas on what to wear to an eighties party or event, then you've come to the right place. Each page is packed full with clothing ideas, and we link to leading costume and T-shirt suppliers. So relax (don't do it), discover and enjoy...
Transport yourself back to a time when big hair styles, baggy tops and leg warmers were the norm. These costumes are the most popular choices for those wishing to dress-up for an eighties party or concert. There's a little bit of everything here, including classic film themes such as Top Gun and Teen Wolf, Madonna costumes, geometric shapes and neon colors.
Select any image to buy the T-shirt displayed. Select the text button links to see all the tees in that category.
A Madonna impersonator. Note the religious necklaces, fishnet top, crop top, bow in the hair, lace fingerless gloves, studded belts, and a stack of bangles and jelly bands on the arms.
Big plastic belts were very fashionable in the 80s, and I remember pop star Kim Wilde wearing a similar top to this with black and red horizontal stripes. Belts were often worn with over-sized shirts.
Pleated acid wash jeans with a candy stripe shirt.
This photo is from the mid 1980s, and shows a woman wearing a tight mini skirt with visible panty line. Believe it or not, this look was commonplace back in the 80s!
This picture was taken in the summer of 1986. Here we see another clingy mini skirt which leaves little to the imagination. Notice the lace top which was popularized by Madonna.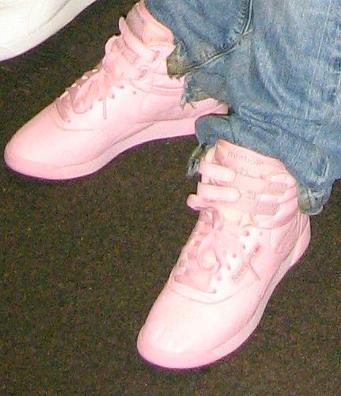 Public domain image from the 1980s featuring a pair of Reebok Freestyle Pink Hi-Tops