80sfashion.clothing is a participant in the Amazon Associates advertising program. This is designed to provide a means for trusted websites to earn fees by advertising and linking to their products.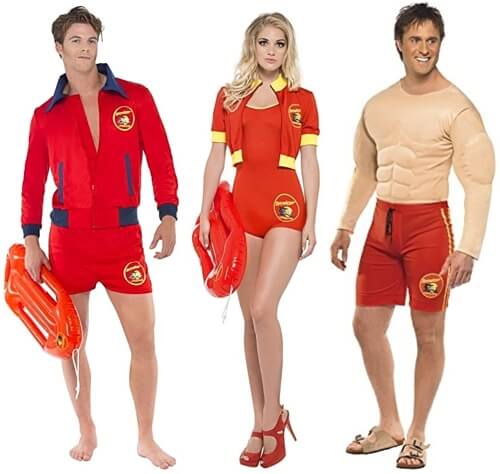 BAYWATCH COSTUMES AND T-SHIRTS
Here you will find a full range of official and unofficial Baywatch costumes and accessories and tees for men and women. So whether you want to become "The Hoff", Pamela Anderson or one of the many other characters in the series, you'll find everything you need in this section.
Many would argue that the Baywatch TV series was more synonymous with the 1990s than the 80s. However, the show's origins lie firmly in the 80s with the debut series airing in 1989. The lead character, David Hasselhoff, is also very much an 80s TV star, and there is no doubt that the success of his role as Michael Knight in Knight Rider helped him to secure his major acting role in Baywatch.

If you're looking for a costume idea for either an 80s or 90s themed party, or even an event with a nautical or retro TV theme, then the Baywatch theme is a quirky and cost-effective choice.
Copyright (c) 80sFashion.clothing