80sfashion.clothing is a participant in the Amazon Associates affiliate advertising program. This is designed to provide a means for trusted websites to earn fees by advertising and linking to products on their website.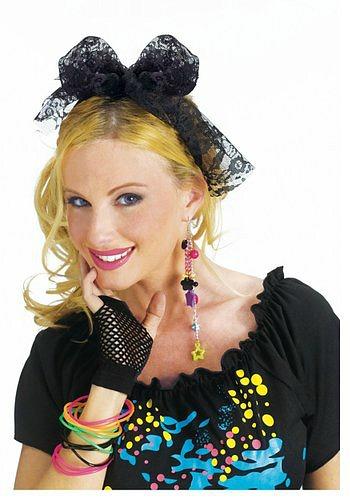 80S ACCESSORIES FOR WOMEN
In this 80s Accessories section (for the US) you will find a wide range of items which will allow you to create or enhance a costume with a 1980s theme. We've hand-picked the best rated and best priced items from Amazon.com, ensuring you get a good deal. Products with too many negative reviews have been left out.
We have placed the most popular 80s accessories below. However, if you want more choice of a particular accessory, then use the links above which will display a more extensive range.
You can create a quick and easy look using the items above. One of the off-shoulder tees, paired with the tutu costume set is just perfect, and you can also add the bracelet set for a more complete look. Or you can pair the pink leggings with the neon green leg warmers and wear with a tee. We recommend ordering a larger sized shirt than your normal size to get that loose, 80s look. If you wish to, then you can also add extra items such as fingerless, fishnet/mesh gloves, shutter shades or wayfarer style shades.
The rules are not set in stone and, contrary to popular belief, not everything was neon. Black, purple, pink and pastel colored leggings, leg warmers and leotards were popular and also work well together. Clashing colors were also often worn together in the 80s - don't be afraid to wear neon orange and pink together!
You can create a 1980s fitness/workout/dance look by wearing drawstring shorts or a leotard, sweatbands, a baggy tee or sweatshirt, leg warmers, leggings and a fanny pack (optional).
You may also be interested in;
Copyright (c) 80sFashion.clothing