80sfashion.clothing is a participant in the Amazon Associates affiliate advertising program. This is designed to provide a means for trusted websites to earn fees by advertising and linking to their products.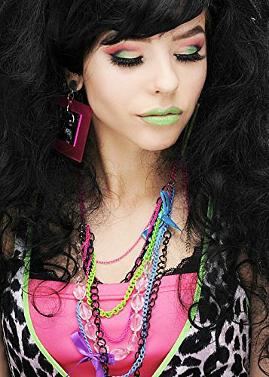 No eighties costume for women is complete without some jewelry, which can transform an outfit from good to like totally awesome! On this page you will find earrings, necklaces, bracelets and bangles with an 80s theme.
This set of 4 neon 80s bangles is extremely popular with customers and are the perfect colorful addition for your party costume. Made from a high quality, smooth touch plastic.
Big plastic earrings in neon colours were particularly popular during the 1980s, as were hoops, geometric shapes (such as triangles and stars) and animal print. For a Madonna or Cyndi Lauper look, add star or cross/crucifix earrings and a necklace. Religious and studded jewelry is ideal for creating a Madonna or rock/punk style.
Black, white and silver beaded and crucifix necklaces were made popular by Madonna, with Cyndi Lauper choosing more colorful bead necklaces. Geometric shapes can also be used and triangles became particularly popular in the 80s.
Madonna was the most influential fashion icon of the 80s. She was often seen wearing a stack of bangles, and punk-influenced chain bracelets and jelly bracelets on her arms during the 1980s, along with
fingerless lace gloves
and
beaded necklaces
. Cyndi Lauper also adopted a similar style. Big plastic bracelets with clashing neon colours or animal print were also popular.
You may also be interested in;
Copyright (c) 80sFashion.clothing