80sfashion.clothing is a participant in the Amazon Associates affiliate advertising program. These are designed to provide a means for trusted websites to earn fees by advertising and linking to their products.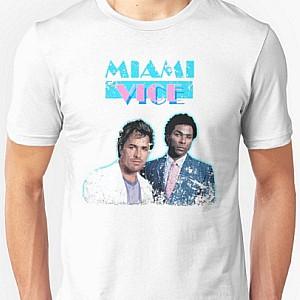 The Miami Vice TV series was about as 80s as you could get. Starring Don Johnson as James "Sonny" Crockett and Philip Michael Thomas as Ricardo "Rico" Tubbs, the exotic crime drama featured pastel Italian suits with rolled-up sleeves, sockless loafers, Ray-Ban shades, fast cars and speed boats. The series created a surge in demand for Ray-Bans, and Don Johnson created a trend for wearing a T-shirt under a suit jacket with designer stubble.
Our first selection of tees can be found at Redbubble.com who ship worldwide. All designs are available for Men and Women and can be printed on a wide range of tops including sweatshirts and hoodies.
Our next selection is from Amazon.com. Sadly, we cannot display prices, but as you would expect they are very competitive.