80sfashion.clothing is a participant in the ebay and Amazon Associates affiliate advertising programs. These are designed to provide a means for trusted websites to earn fees by advertising and linking to their products.
If you lived outside the U.S. (for instance in the UK) during the eighties, then you may not recall seeing many people wearing Skidz pants. These baggy cotton pants (which look quite a lot like pajama bottoms!) became popular in the U.S. and were printed in a wide range of designs such as plaid, splash patterns and neon colours. They were particularly popular with skaters and surfers and original Skidz included a black and yellow, diamond-shaped street sign logo which featured a skidding car.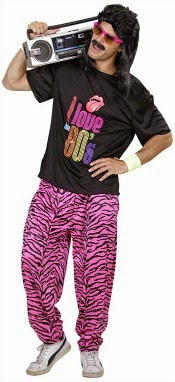 This costume featured here includes pink zebra print Skidz style baggy pants and an "I Love the 80s" T-shirt. If you're looking for a low-cost and easy-to-wear costume then this is ideal. It doesn't include the boombox, pink wayfarers or trainers/sneakers, but this leaves you free to accessorise the costume in your own style.
To create an authentic costume you would, of course, need to locate an original pair of Skidz.
Thankfully, these are being sold on Amazon. They're not cheap, but if you want to look authentically 80s, then the original SKIDZ are a must-have! Here are some of the designs available...
You can also create an authentic 80s look using dungarees or by adding a SKIDZ T-shirt.
Animal print was a popular 80s fashion choice, and these black and white zebra print baggies could be used for a retro gym workout, as well as creating a fancy dress costume.
Ebay is also a great site to find original Skidz. They're not cheap, but for an authentic look it's worth paying the price. They came in a wide variety of print designs, including plaid, stripes, shapes and zig zags.
Use the following searches;
Original Skidz found on ebay
Another option that is kinder to your bank balance is to use some baggy tracksuit bottoms, and I have managed to find some at Amazon that have a very 80s look to them. Paint splash patterns were particularly popular during the great decade.
An easy way to complete your look would be to simply wear an 80s T-shirt and some Chuck Taylor Hi-top trainers.

80s T-shirt ideas (US) at 80sfashion.clothing
80s T-shirt ideas (UK) at simplyeighties.com
Low-cost Canvas Hi-tops Unisex
Baggy Gym Pants at Amazon.co.uk
Baggy Workout Pants at Amazon.com
Of course, there are plenty of sites from which to purchase your baggies, but for an 80s feel look for geometric designs, splash paint patterns, animal print, plaid and bright colours.
Copyright (c) 80sfashion.clothing