80sfashion.clothing is a participant in the Amazon Associates affiliate advertising program. This is designed to provide a means for trusted websites to earn fees by advertising and linking to products on their websites.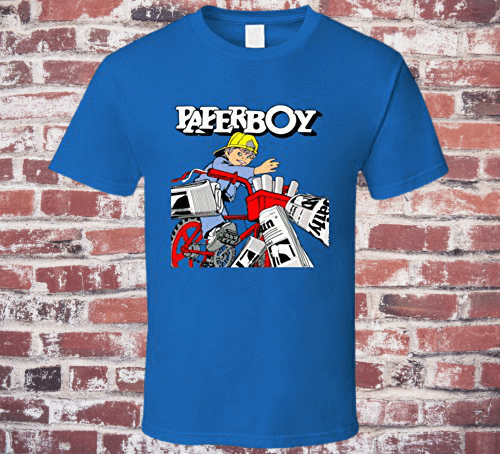 Paperboy by Atari first appeared in the arcades back in 1985. The home computer ports were really decent, and released starting in 1986, and the version I remember playing was on my Atari ST. However, you may remember playing the game on your C64, Amiga, TRS-80 or NES!
Whichever version you played, you can pay homage to the game with these two awesome Paperboy T-shirts I found, which feature the artwork from the original game.
It's being sold by The Village T-shirt Shop on Amazon, and comes in sizes small to XX-large. It only comes in blue, but this is based on the colour used on the original box art for some releases, although some featured a red background .
There is also a very nice Paperboy Tee with a similar design being sold on Teepublic, and this comes in a huge range of colours choices, including red. This is also available as a tank top, sticker and mug.
Copyright (c) 80sfashion.clothing