80sfashion.clothing is a participant in the Amazon Associates affiliate advertising program. This is designed to provide a means for trusted websites to earn fees by linking to products on their websites.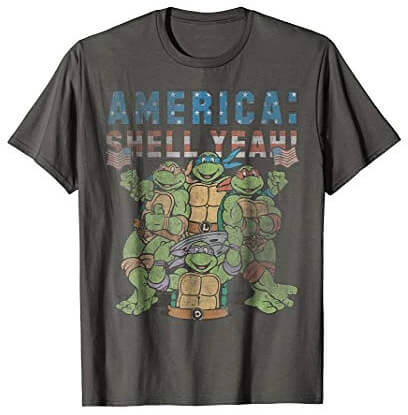 TEENAGE MUTANT NINJA TURTLES T-SHIRTS
Do you remember when kids everywhere were repeatedly shouting out "Cowabunga!" and annoying the hell out of their parents back in the 80s? There was no avoiding the four turtles, as the merchandise was in almost every store on items ranging from skateboards to breakfast cereal!
On this page, you will discover a wide range T-shirts for Adults and Children celebrating the classic 80s cartoon series. So whether you want to relive your youth, or maybe buy a tee for your own kids/grandkids who are now into the turtles, you'll find a big choice of great designs below.
Copyright (c) 80sFashion.clothing