80sfashion.clothing is a participant in the Amazon Associates affiliate advertising program. This is designed to provide a means for trusted websites to earn fees by advertising and linking to products on their websites.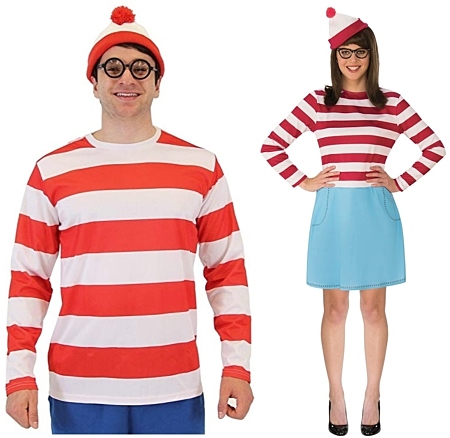 Where's Waldo and Wenda Costumes
You'll have no trouble finding Waldo on this page, and we have a full range of Where's Waldo outfits to show you. Known as Where's Wally? in the United Kingdom, the first puzzle book was published in 1987, and renamed "Where's Waldo" for the U.S. market.
With his distinctive red and white striped shirt and bobble hat, the look became iconic and Waldo became hugely popular, with a TV series, comic strip and film appearing in the 90s. His girlfriend Wenda didn't appear until 1991, so her character isn't strictly suitable for 80s dress-up, although I doubt many people actually know or care aboutthis fact!
Our top choice is this officially licensed Wenda outfit for women. Available from Rubie's on Amazon, this complete costume is made right here in the USA. It includes the red and white striped top, and blue skirt, red and white hat with pom-pom on, and black framed glasses. You'll be pleased with the very reasonable price, too!
Copyright (c) 80sfashion.clothing