Disclosure:80sfashion.clothing is a participant in the Amazon Associates affiliate advertising program. This is designed to provide a means for trusted websites to earn fees by advertising and linking to products on their website.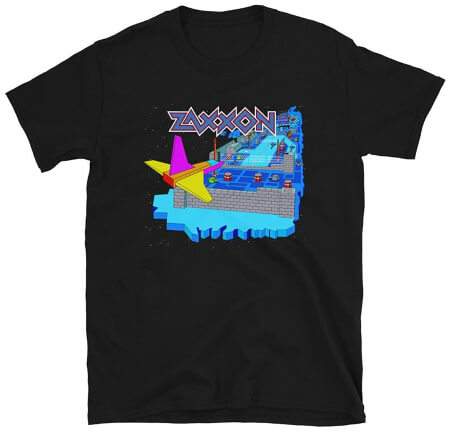 One of the most graphically impressive games to come out of 1982 was the isometric shooter Zaxxon. However, what really got me excited was the chance to play it around two years later on my Atari 800XL home computer. There was no other game like it back then, and it was THE coolest game to own in the mid 80s, for sure!
So I was thrilled to find these two Zaxxon T-shirts, which I just had to share with you - I hope you like them, too! Now you can celebrate the classic 8-bit videogame and remember the golden era in video gaming.
The first T-shirt is a unisex fit for adults and features the arcade game graphics and logo. It only comes in black, but us available in sizes from small to 3XL.
The second logo T-shirt is available for men and women in sizes S to 3XL, and a big choice of colors is available.
Copyright (c) 80sfashion.clothing