80sfashion.clothing is a participant in the Amazon Associates and ebay affiliate advertising programs. These are designed to provide a means for trusted websites to earn fees by advertising and linking to products on their websites.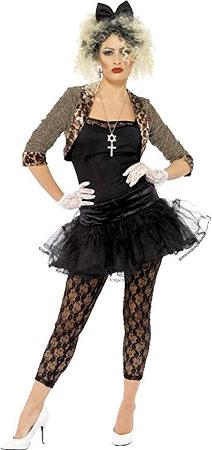 This popular Madonna costume is based on the outfit she wore in the 1985 comedy drama movie Desperately Seeking Susan, in which, she played the bohemian drifter Susan Thomas.
Please note that although a bow headband is included, the wild child wig is sold separately. You may also like to add a low-cost cross necklace to complete your look.
This outfit includes the jacket, top, tutu skirt, lacey leggings, gloves & bow headband.
Copyright (c) 80sfashion.clothing