80sfashion.clothing is a participant in a number of affiliate advertising programs. These are designed to provide a means for websites to earn fees by advertising and linking to their products.
Madonna Costumes and Accessories
You can create a number of Madonna's looks from the 1980s using the products below. Styles include Desperately Seeking Susan, Like A Virgin, Material Girl video (pink dress) and the golden cone bra and corset set as worn during her Blonde Ambition Tour. Lace and religious jewelry played a big part in Madonna's 80s looks, and you'll find all the accessories you need below.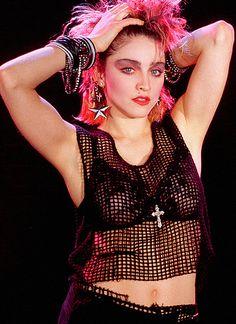 One of Madonna's many 80s looks