80sfashion.clothing is a participant in the Amazon affiliate advertising program. This is designed to provide a means for trusted websites to earn fees by advertising and linking to their products.
MADONNA COSTUMES AND ACCESSORIES
You can create a number of Madonna's looks from the 1980s using the products below. Styles include Desperately Seeking Susan, Like A Virgin, Material Girl video (pink dress) and the golden cone bra and corset set as worn during her Blonde Ambition Tour during 1990.
Lace, fishnet gloves and tops, and religious jewelry played a big part in Madonna's 80s looks, and you'll find all the accessories you need below.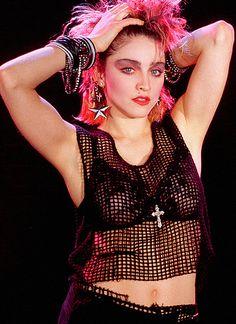 One of Madonna's many 80s looks