80sfashion.clothing is a participant in the Amazon Associates and Zazzle affiliate advertising programs. These are designed to provide a means for trusted websites to earn fees by advertising and linking to products on their websites.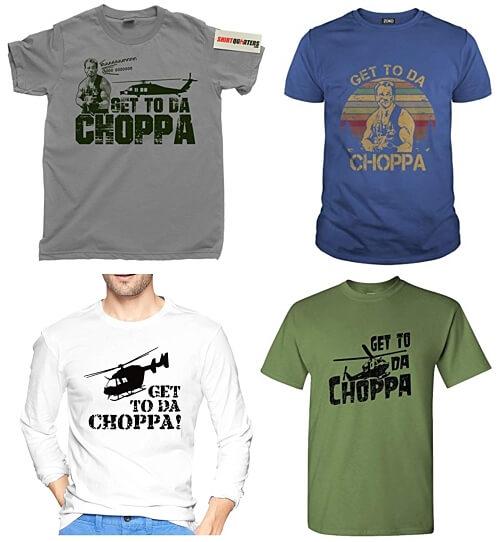 GET TO THE CHOPPA T-SHIRTS
Predator still remains one of my favorite movies from the 80s. Released in 1987, the plot revolved around a team of commandos (led by Arnold Schwarzenegger as Major "Dutch" Schaefer) who find themselves hunted down by an alien warrior.
As they prepare to evacuate the area, Dutch is floored by the alien's missile, and shouts "Get to the choppeeeeer" to Anna (played by Elpidia Carrillo), which sounds like "get to da choppa" due to Arnie's thick Austrian accent, which remains the best-known quote from the movie. More recently, the quote was used in Celebrity Apprentice.
We've hand-picked all the best Get to the Choppa T-shirts, allowing you to celebrate the famous 80s movie quote.
Copyright (c) 80sfashion.clothing