80sfashion.clothing is a participant in the Amazon affiliate advertising program. This is designed to provide a means for trusted websites to earn fees by advertising and linking to products on their website.
Superhero Costumes for Men
In this section you will find a mix of retro, 80s and classic superhero costumes for men, as well as a few modern themes. too. Live out your fantasy and become the superhero you've always dreamed of. From Superman to Spiderman, they're all here...
Best He-Man Costume for Men
Just about anyone who grew-up in the 80s will remember the Masters of the Universe cartoon series. The full He-Man costume is actually very poorly rated, so we have chosen this simple but effective outfit instead. It's highly-rated by customers and actually includes the wig, making it great value! You can compare suppliers prices using the link below.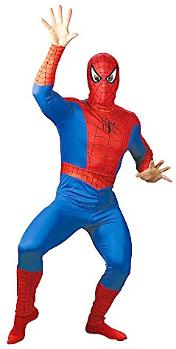 Best Spider-Man Costume for Men
We've picked out this highly-rated, Official Marvel costume which is also great value. In terms of price, quality and customer satisfaction, it's a real winner! It's available in three sizes L, XL or XXL. Unfortunately, there are no smaller sizes. View ALL Spider-Man Costumes
Best Value Superman Costume for Men
This is a quick and easy costume printed on a shirt with an attached cape. Just slip it on and fly to the party! This is the most popular Superman outfit and is available for sizes M, L or XL. View ALL Superman Costumes
(c) 2018 80sFashion.clothing